Are you ready to enhance your English language skills and ace those competitive exams? Dive into the world of "Lucents General English by A.K Thakur PDF," a comprehensive and invaluable resource.
About Lucent General English Book PDF by AK Thakur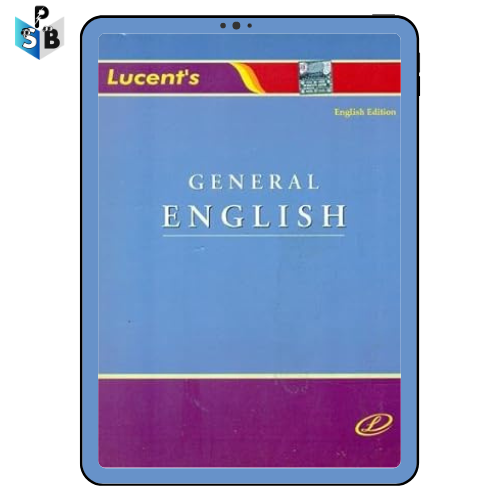 In "Lucent General English PDF," you'll embark on a comprehensive journey through the intricacies of the English language.
This book is a valuable resource for aspirants preparing for a wide range of competitive exams, including RRB, railway, SSC, AFCAT, BANK, and IBPS PO/CLERK.
Lucent Publications, a renowned name in the education industry, presents this detailed guide, which includes chapters with in-depth explanations, solved and unsolved exercises, and previous year's questions.
Learning Oppurtunity in Lucent General English by AK Thakur PDF
In "Lucent General English Book PDF," you'll learn:
Grammar Fundamentals: Explore topics like Tenses, Modals, Clause Analysis, Articles, Nouns, Pronouns, Adjectives, Adverbs, Prepositions, Phrasal Verbs, Idioms & Phrases, and Spotting Errors.
Language Enrichment: Dive into lessons on Patronyms & Homonyms, One Word Substitutions, Synonyms & Antonyms, Cloze Test, and more.
Composition and Writing Skills: Gain insights into Sequence of Sentences, Objective Comprehension and Narration, Synthesis, Transformation, Punctuation, Spelling Rules, and Contractions.
Contents of Lucent General English Book PDF
| | | |
| --- | --- | --- |
| 1. Syntax | 2. Articles | 3. Noun |
| 4. Noun and the Number | 5. Noun and the Gender | 6. Noun and the Case |
| 7. Pronoun | 8. Adjective | 9. Interchange of degree of comparison |
| 10. Time and Tense | 11. Narration | 12. Voice |
| 13. Removal of Too | 14. Verb | 15. Verb Form |
| 16. Auxiliary Verbs | 17. Adverb | 18. Preposition |
| 19. Conjunction | 20. Non –Finites | 21. Question Tags |
| 22. Emphatic with Do/Does/Did | 23. Common Error | 24. Correction of the Sentences |
| 25. Transformation of sentences | 26. Analysis of Sentences | 27. Transformation of Sentences |
| 28. Synthesis of Sentences | 29. Synonyms | 30. Antonyms |
| 31. One Word Substitution | 32. Phrasal Verbs | 33. Words Often Confused |
| 34. Idioms and Phrases | 35. Proverbs | 36. Foreign Words and Phrases |
| 37. Spelling Test | 38. Miscellaneous | 39. The Same word used as Different Parts of Speech |
English proficiency is increasingly essential, not only for competitive exams but also for daily activities and private job opportunities.
This Lucent General English book by A.K. Thakur is a vital resource for those aiming for government jobs or seeking to enhance their English skills.
Don't miss the chance to download this invaluable resource by clicking the link below.
Find Other Similar English Books:
Disclaimer:
On
politicalscienceblog.com
, we provide links & materials that are readily available on the internet and search engines for educational purposes only. We do not intend to harm the rights of others and respect their intellectual property. If you want us to remove the links to materials, please notify us by
sending an email
, and we will remove that infringed link and materials within 24 hours of notice. We take intellectual property rights seriously and strive to ensure that all content on our website is authorized.
Happy reading!