Hey, Have you ever tried Print on Demand products? If not, How about starting a business like never before with this fastest 🚴三 growing business model for ecommerce entrepreneurs. Don't know what exactly "Print on Demand" is? Let me give you a quick overview.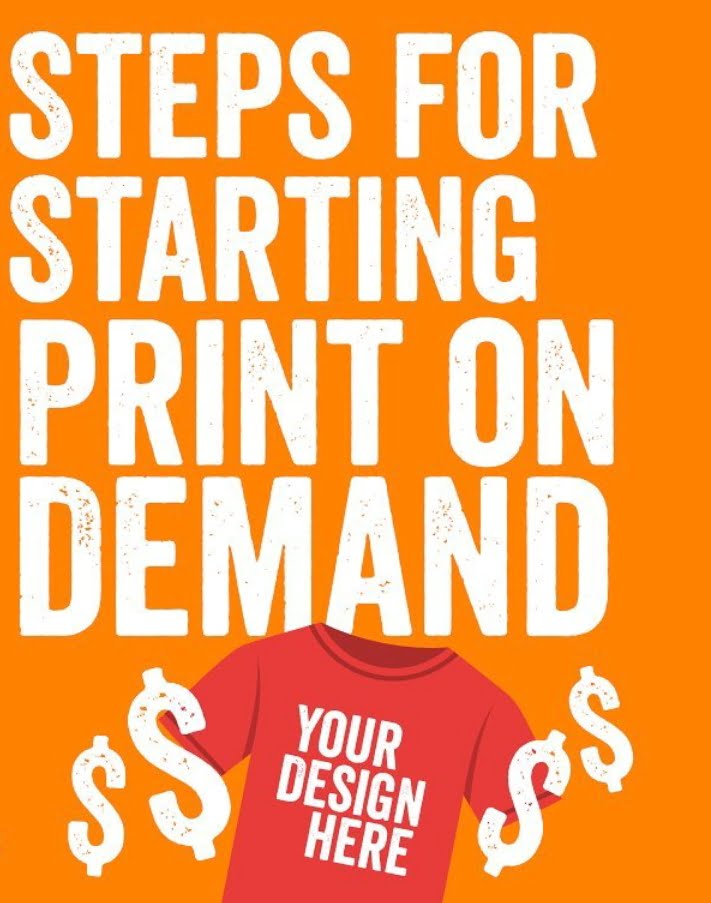 What is Print on Demand?
Print on Demand is highly popular fastest growing business model among the e-commerce entrepreneurs. In this business model as it's name suggest you have the opportunity to have 🤏 white label printing on products like; t-shirts, phone case cover, pillows, hates and even shower 🚿 curtains with your logo and branding.
How does "Print on Demand" business work?
Unlike the traditional way of physical storing of your products and inventory. In this print on demand business you don't need to hold any inventory in physical form, only thing you need to do is focusing on designs and marketing.
The crucial part of this business is selecting a right partner like choosing a fulfillment company that will send your customer their product when you receive an order.
Beginner Guide to Start Print on Demand Business in Amazon
Are you beginner in the Print on Demand Business? Here, let me give you a step-by-step guide on what things you need to do before reaching out to it's destination.
Research (A Profitable Niche)
Choosing Partner 👬 (For Business Process)
Product Design
Setting Amazon Seller Account
Marketing
Monitoring
1. Research (Profitable Niche)
Finding a profitable niche is the first step for a successful Print on Demand business model in competitive market. A market is filled with several different niches but identifying a right niche for your buisness is crucial. It is advisable to look for a niche or keyword which is high in volume or law in competition. If you're wondering 🤔💭 where to start? Here are some of the tools 🛠️ for keyword research such as Google Trend, SemRush, Ahref, and Amazon Own Search 🔍 Bar.
2. Choosing Partner 👬 (For Business Process)
Now, you've selected a niche for your business. ⌚Time is come… to select a right partner company for the fulfillment of your business needs. To print your custom brands and logo on things like T-shirts 👕, Phone Case Cover, Pillow, Curtains, Mug etc. requires a promising partner who will provide end consumer with quality products.
How to pick right company to work with you?
"ALWAYS ORDER SAMPLE": when picking a print on demand company to work with, you need to order a sample of product to ensure the quality.
3. Product Design
As we've mentioned earlier during the beginning of our post that since there is no need to inventory your products, packaging, processing and shipping 📦 as it's already performing by Amazon's FBA (Fulfillment by Amazon). The only work left for you to design an eye catching products with your custom logo, brands and image which resonates with the audience.
Still worried where to make all those designs? 🤔💭. Let me recommend you some tools which I was aware of but still I want you to stay up-to-date with the latest tools in this field. The designing tools are as follows:
Canva (Free & Premium)
Adobe Photoshop
4. Setting Amazon Seller Account
Product is ready! Wonder 🤔 where to sell? Finally time is arrived to bring out your products into readymade market of Amazon with customer base of over 300 million. But stop 🙅 how you gonna sell it? It's necessary to create an "Amazon Seller Account."
To start selling your products you must register on Amazon Seller Central first by providing all the required details and selecting between the individual and professional business plan.
5. Marketing
To reach the unreached, marketing is a key driver to your successful 🏆💪 business growth. A Marketing is central part of Business which expands the customer base, find new prospects & areas, create brand awareness, 2x your income.
There are various ways to promote your print on demand business. Some of them are as follows:
Influencer and Collaboration Marketing
Promotion via content on social media platforms like; Instagram, Facebook, Pinterest, Tumblr, WhatsApp, and Twitter 🐦🐦.
Building an Email List
Local market exploration or prospect finding.
Referral programs.
Hosting Podcasts.
Joining or Hosting Events
6. Monitoring
The final and last step comes to monitoring your overall Business and identifying loopholes and opportunity to expand. When it comes to monitoring tools, there are several different paid and free tools available in the market.
Benefits of Print on Demand Business
Here are the following benefits of Print on Demand Business in Amazon:
A user friendly business model
Free from Inventory Management
No upfront costs
Law Budget, High Profitable Business
The massive customer base of Amazon
Flexibility of Print on Demand
In conclusion, print on demand Business model is very popular among e-commerce entrepreneurs. With optimal budget one can grow their e-commerce business to the international level. Printing the designs and brand logo on daily used articles can leverage you high profit by selling on the big platform like Amazon.
So, let's get ready to dive into the journey of limitless profit with Print on Demand Business in Amazon and unleash the unexplored potential.